TAT-8080 Milling Engraving Machine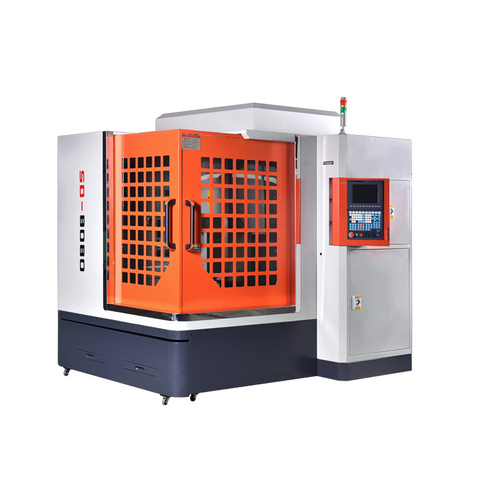 TAT-8080 Milling Engraving Machine
Product Description

The best electrode processing machine is most suitable for milling and engraving of copper electrode. Make the processing of electrode reach the fastest, most precise, brightest and brightest. Adding a certain protective device can also be used to process graphite electrode.
It is a sharp tool for processing hardware mold parts. It is used for processing precision small steel mold, small five gold mold, glasses mold, watches, zippers, trademarks, toys, handicrafts and other molds and products.
It can be used for precision machining of various aluminum parts.
It is used for making hand boards. The increased z-axis stroke ensures that hand boards of various toys and electrical appliances can be processed.

Technical parameter
| | | |
| --- | --- | --- |
| Project | Unit | TAT-8080 |
| X-axis travel | mm | 800 |
| Y-axis travel | mm | 800 |
| Z-axis travel | mm | 400 |
| Spindle nose to table | mm | 70-470 |
| Three-axis guide width | | X/Y/Z:MSA35 |
| Table size | mm | 800*800 |
| T-slot | mm | 7*18*100 |
| Max load capability | kg | 400 |
| Standard spindle | | Motorized spindle |
| Spindle speed | rpm | 3000-24000 |
| Spindle power | kw | 5.5 |
| Spindle taper | | ER25-32 |
| Maximum cutting feed rate(X/Y/Z) | m/min | 8 |
| Rapid speed(X/Y/Z) | m/min | X/Y/:18 Z:15 |
| Ball screw diameter/pitch | mm | X/Y:40/6 Z:32/5 |
| Positioning accuracy | mm | 0.005/300 |
| Repeatability | mm | 0.003 |
| Air pressure | kgf/cm | 6 |
| Net weight of machine | kg | 4800 |
| Area | mm | 2450*2150 |
| Machine height | mm | 2673 |
Contact Us
No. 6 Wanchen Road, Wanting, Xiangcheng District, Suzhou, Jiangsu, 215000, China
Phone :+8619848219941