wire cutting machine DK7720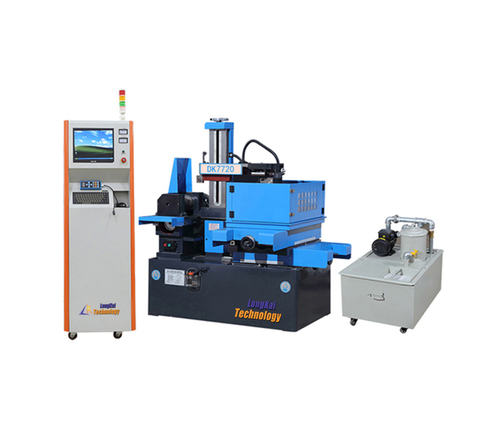 wire cutting machine DK7720
Price And Quantity
Set/Sets

385000.00 - 390000.00 INR
Product Specifications
wire cutting machine

cutting
Steel

Automatic Cutting Machine
100 Kg/hr

900 Kilograms (kg)
2.7 Microampere (A)

1500*1000*1700 Millimeter (mm)
High Efficiency, Good Quality

White
Product Description
Purpose of DK7720 high speed wire cutting machine
The working principle of WEDM is to use the continuously moving fine electrode wire as the electrode to etch the metal and cut the workpiece by pulse spark discharge.
The equipment is mainly used for manufacturing various molds, electrodes and precision parts, and processing complex cavities and curved surfaces of various conductors such as cemented carbide, quenched steel, graphite, aluminum alloy, structural steel, stainless steel, titanium alloy and diamond. It has the characteristics of high machining precision, high finish and fast cutting speed. The appearance design of the machine tool is beautiful and generous, the structural design is reasonable and compact, and the mechanical structure is solid. In terms of structural characteristics, the machine tool has strong practical functions. The unit of measurement of all parts of the machine tool and various instruments adopts the unit of measurement (SI) standard. The equipment protection devices are complete and reliable, and meet the provisions and requirements of relevant national departments on the general terms of machine tool safety protection.
Advantages of DK7720 high speed wire cutting machine
1. Wide scope of application
It can be machined regardless of the thickness and hardness of the material
As long as it is a conductive material, it can be processed from a thin plate into cemented carbide, regardless of the thickness, size and hardness of the material.
2. It can process complex shapes
In addition to linear cutting, it can also be cut into arcs and process complex shapes, such as the combination of lines and arcs.
Taper machining can also be carried out by moving the upper and lower metal wires respectively.
3. High accuracy
The accuracy of wire cutting is comparable to that of grinder (0.005 mm unit).
4. No burr
Since deburring is not required, peripherals such as chip conveyor belts are not required, and the process can be shortened.
5. No special tools are required
Since a relatively cheap brass (brass) wire can be used instead of a consumable tool such as a cutting tool for rotation and cutting, the tool does not need to be replaced and the cost of consumables can be reduced.
6. Reduce material damage
Because wire cutting is a non-contact process, the load on the material will not be too large, and the thermal deformation is also very small.
Techical Parameter
| | | |
| --- | --- | --- |
| S/N | project | parameter |
| 1 | model | DK7720 |
| 2 | Electrical cabinet form | Vertical cabinet (full step type) |
| 3 | Guide | Steel rail |
| 4 | Lead screw form | Ball screw |
| 5 | Xyuv motion motor form | Reactive stepping motor |
| 6 | Working mode of wire conveying motor | Frequency converter speed regulation1~12m/s |
| 7 | Machine tool protection | Environmental protection cover |
| 8 | Resolution of motion axis | 0.001mm |
| 9 | Table size | 420X270mm |
| 10 | X, y axial stroke | 250X200mm |
| 11 | U, V axis travel | 3535mm,(6060m) |
| 12 | Machining taper / machining thickness | 6(15)/80mm |
| 13 | Maximum straight cutting thickness | 300mmZ-axis manual lifting |
| 14 | control mode | 4 axis linkage |
| 15 | Maximum load capacity | 100kg |
| 16 | Maximum processing current | 8A |
| 17 | Maximummachining efficiencyCr12,H=60mm | 180 mm/mAluminum cutting220 mm/m |
| 18 | Surface roughnessStraight line cuttingH40mm | Ra2.0m |
| 19 | Cutting accuracyCr12,H=40mm | 0.01mm |
| 20 | Radial runout of wire storage cylinder | 0.02mm |
| 21 | Molybdenum wire diameter range | 0.12~0.22mm |
| 22 | Wire storage capacity of wire storage cylinder | 250m |
| 23 | Loss of molybdenum wireCr12,H=40mm | 0.02mm |
| 24 | Cutting power supply | High frequency power supply system without resistance |
| 25 | operating system | Windows XP |
| 26 | Control system | AUTOCUT |
| 27 | communication interface | LANRS232USB |
| 28 | Operation function | Drawing or CAD (DXF) drawing import |
| 29 | Volume of working tank | 55L |
| 30 | Working fluid filtration mode | Filter screen filtration |
| 31 | Weight of whole machine | 900 kg |
| 32 | Overall dimension of main engine | 1500x1000x1700mm |
| 33 | Cabinet size | 7306301820mm |
| 34 | Rated power of electric appliance | 2.7kW |
Contact Us
No. 6 Wanchen Road, Wanting, Xiangcheng District, Suzhou, Jiangsu, 215000, China
Phone :+8619848219941